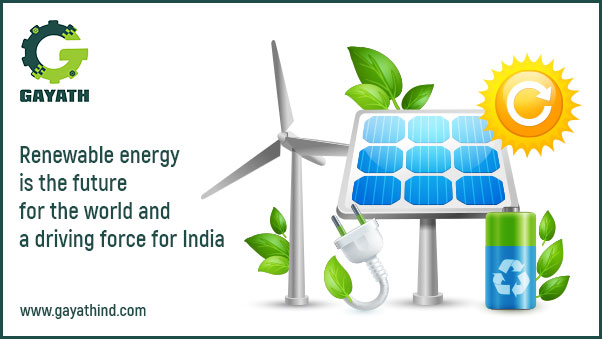 Renewable energy is the future of the world and a driving force for India
Introduction
Renewable source of energy has been in demand and making news all over the world and just not in India alone. Today we have started to depend on natural sources of energy like the wind instead of digging deeper into the earth's crust. Wind energy is one of the biggest sources of energy provider and a country like India could harness its potential to the best. Wind turbine manufacturer in Chennai like Gayath Heavy Engineering Private Limited do realize the potential and are fully geared up to provide their best in this sector. At the same time, it is also important to understand why to prefer certain locations are preferred and the benefits.
Why do we need a Wind turbine manufacturer in Chennai?
Chennai is blessed with nature's abundance and a great landscape good enough to produce wind energy. Moving further, there are several companies that are now foraying into this sector along with Gayath Heavy Engineering Private Limited. These companies are collaborating with various other external manufacturers like flexible supply chains to ensure the continuous flow of energy and a competitive footprint.
Benefits of Wind turbine manufacturer in Chennai
There are several benefits of using natural wind turbine energy systems and some of them are listed below.
Clean and green: Instead of depending on the earth's core minerals, we are harnessing what is naturally available for us like wind energy. Technological advances have reached a penultimate level where they can deliver force and power at the same time. The best feature is, it is environment friendly and leaves no carbon footprints behind.
It is diversified: Even though the usage and consumption of this source of energy are still in their preliminary stages in India, the growth is un-precedent. Wind power stations are diversifying in various forms and variations in meeting supply demands as well.
Capacity concerns: Industries investing in this type of energy system will be concerned about the deliverance of capacity and effectiveness. However, since the inception of wind turbine energy systems in Chennai, the result has been productive and effective.
It reduces energy waste: Wind energy is equally capable of producing energy units similar to coal or other nuclear products. However, the wind has no side effects and is a clean source of energy. It is not a fossil fuel and is freely available in abundance.
Performance potential: It is an obvious fact that Industrial usage is much higher than domestic and they do need tonnes of power to be functional. Can wind power meet these demands is the daunting question? Wind energy is quite powerful and given the geographic landscape of India, it is viable. Though at this point in time it may not cater to 100% usage, it can cover nearly 80% of the power needs.
Conclusion
Energy can be derived from several sources like water, wind, and earth. However, water and earth are depletable resources and we only have wind left with us. Though it has taken a long time for humanity to realize this, where there is wind there is always hope…whether it is power or energy or a better world. Companies like Gayath Heavy Engineering Private Limited are fully aware and have forayed into this sector equipped with the best resources.