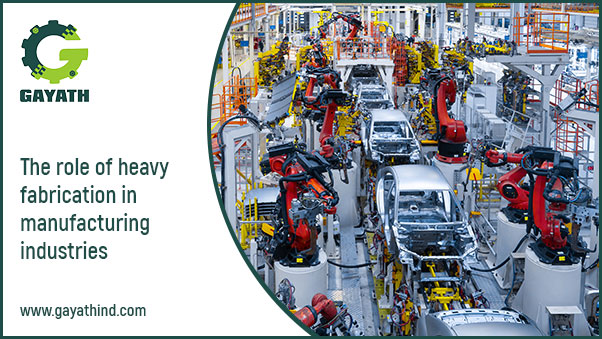 The role of heavy fabrication in manufacturing industries
Introduction
Chennai is one of the top pit-stop locations for Heavy fabrication companies in Chennai. Since most of the manufacturing units are located here, other subsidiary units also use Chennai as the basic land of the establishment. As a result, this city plays a very important and active role in the power and economy of the country. There are many types of manufacturing companies here in automobiles, biotechnology, and hardware. It is the 3rd largest trading city in India and has an upper hand in the manufacturing sector. In the western world, Chennai is known as the Detroit of India.
Aspects of heavy fabrication
Chennai is the first choice for various manufacturing companies, Gayath Heavy Engineering Private Limited also has a tremendous presence here. Over the decades, Chennai has gone through a major transformation and has created the perfect pitch for many players
About heavy fabrication industries
The term fabrication is a raw industry term that refers to the process of manipulating raw materials like steel, for example, to build machines and other structures. To build efficient parts of a given working system and throughout the process of manufacturing, fabricators are needed.
Heavy fabrication companies in Chennaifollow the process of constructing various products by using a unique combination of standardized parts and combining one or more individual processes. For example, a steel fabrication unit will fabricate the metal structures using different processes like cutting, soldering, bending, and assembling. Some of the most common types of fabrication are:
Cutting
Punching
Shearing
Welding
Forming
Stamping
All these are used in the fabrication process to shape and cut or mold the raw material d shape it into a final product.
How does fabrication work?
Heavy fabrication companies in Chennaimake small components and different parts that are required for various products like machines, engines, electrical equipment, household appliances, and more. They create a whole set of components and they are sold individually or as a whole.
Basically, metal fabrication is an umbrella term used to describe processes that involve cutting, shaping, and molding to create a final product. Ultimately the process creates an end product from semi-finished or raw products.
What type of metals do industries use for fabrication?
There are several types of versatile metals and other options available in the iron-ore market today. However, carbon steel is mainly used by Heavy fabrication companies in Chennai. The main reason for this is that the metal is highly stable due to the higher carbon content and the low melting point. It is also very durable and easily malleable. The top qualities of this metal are its sturdiness and strength.
What are the industries that employ Heavy fabrication companies in Chennai?
There are several industries that need the service of heavy fabricators. However certain industries use them more frequently and they are:
General construction industries that work with steel are always in need of fabrication.
Automotive industries use them for manufacturing and processes like smashing, repairing, and many more.
Aerospace needs steel fabrication at every level of production.
Shipping and railways are highly dependent on this industry.
Other smaller manufacturing units also depend on them.
Conclusion
Chennai is the headquarters for various IT companies and manufacturing units. The most renowned companies including Gayath Heavy Engineering Private Limited and many others play a pivotal role in driving India's economic power and potential.